Looking for modern brick unlike the rest? Looking for brick that can be built from grade up, without the hassle of concrete or stone bottoms that alter your design concept? Looking for scratch resistant, salt resistant and frost resistant brick? Look no further and continuing reading for details on this new and exclusive modern brick!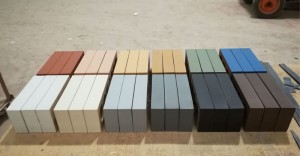 For the first time in North America, Palautec Omega Bricks is crashing through the market with a new and exclusive take on modern brick. Their High Vitrifying System (HV) creates a deep and stark colour potency, along with extraordinary density of <6% water absorption throughout the entire brick mass.
The amazing features of this HV System is the result of a salt resistant clay that prevents the clay from fading, warping, efflorescence and more; frost resistant material; and an anti-graffiti cladding with an easy to clean surface.
With such straight lines and smooth surface, this brick depicts a highly clean and modern look that will fit your next modern design concept for either your home or commercial project. As each batch maintains the same colour consistency each time, you are guaranteed to obtain the design that you are aiming to achieve.
Come out to our showroom to see examples of this brick in real time and to view some model homes!